11 May 2022
Stealth Taxes - How are you being impacted?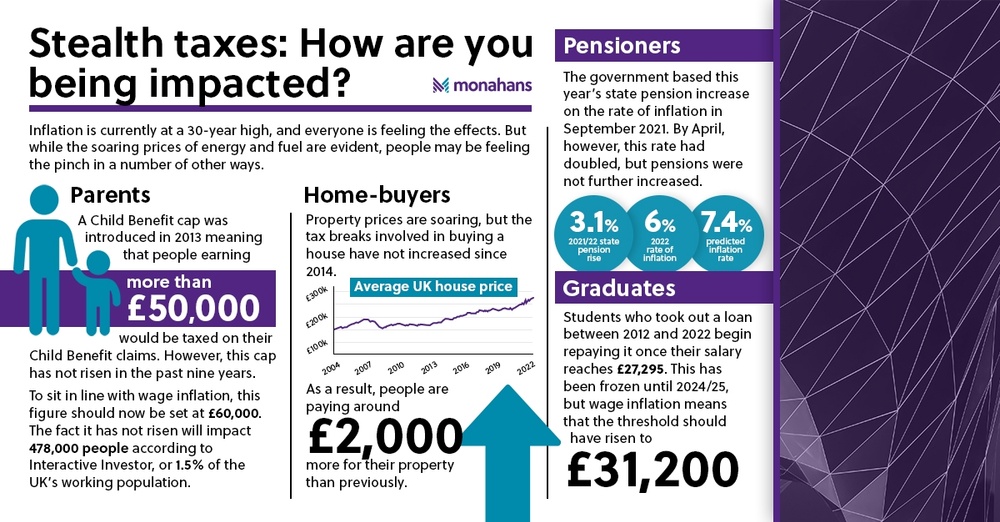 Stealth taxes largely do what they say on the tin. They are taxes that, due to an array of reasons, go relatively unnoticed by the individual or business they affect.

As we head into a new fiscal year, with inflation at its highest for 30 years, we're all certainly feeling a squeeze. House prices, fuel prices, energy prices and food prices have reached substantial levels and it may be a while until we see them at least plateau. Predictions state that the current inflation rate of 7% may increase to 9% by the end of 2022.
While this pocket-pinching rate is something perhaps most of us were prepared for before the Chancellor's budget in March, there are other areas where money may feel tight that we simply weren't expecting.
It has been reported by the Institute of Fiscal Studies that Rishi Sunak could be imposing £21billion of stealth taxation on UK workers through a variety of means. From parents who claim child benefit to home buyers, those of pensionable age and graduates with hefty education debt, the number of people who may be feeling more short-changed than they expected is certainly on the rise.
If you are worried about your finances or need support with how best to manage your personal or professional cash flow in these more difficult times, please get in touch with our friendly team who will be more than happy to help.

Dominic Bourquin