22 Jul 2021
How are you going to prepare for a new world of hybrid working?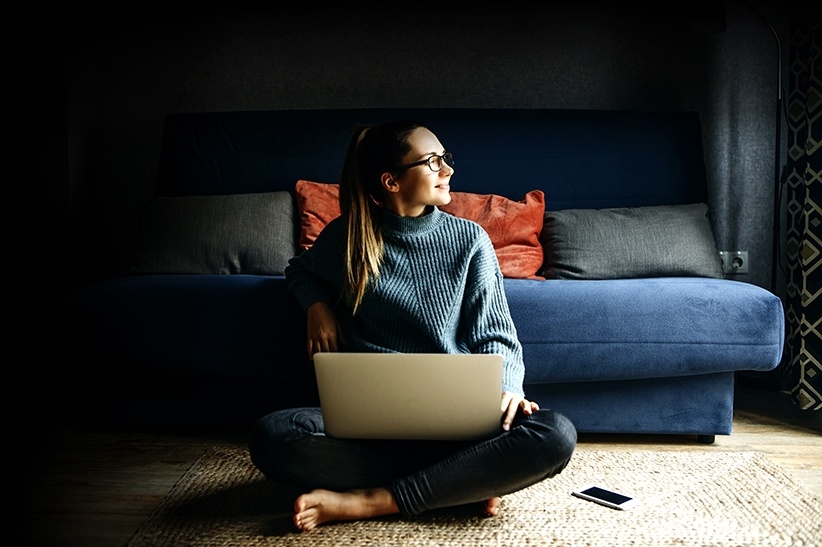 We've been working from home for over a year now, and with restrictions easing, many companies are planning to adopt a hybrid model of working for the long term.

The pandemic has changed the future of work, and though, legally, organisations can choose their own working practices now, we are far from back to normal. Many more businesses have discovered that remote working is not only possible; it can be just as productive and successful as the office and for some, an even more effective way to work. Indeed, the Office of National Statistics found that a whopping 85 per cent of employees want a hybrid approach from now on.
For most, adopting a hybrid working model long-term is a huge change to how companies have traditionally operated. But the cliché is true; with change comes opportunities. As we prepare for the next step, businesses need to be aware of the challenges to ensure they make the most of the opportunities.
What will hybrid working mean for your business? Are you ready for it?
The pandemic has presented us with a huge learning opportunity of how we can be truly flexible in our approach to working arrangements, empowering our colleagues to make choices tailored to their own needs and transforming the ways we work. Whether you've been implementing hybrid working throughout the pandemic, or this is a new move, transitioning to hybrid working for the long-term will be a big step for your business.
What are the challenges?
Not all employees will feel the same about returning to the office, even if it is only part-time, with 55.2 per cent of UK professionals feeling anxious about returning to the workplace. It is a big shift, and every employee will have experienced the pandemic differently; many may have experienced grief or mental health struggles in the last year or be nervous about COVID safety in the office.
There's been a huge and welcome focus on mental health over the last 12 months, but the work doesn't end there. Managing the health and well-being of a hybrid workforce will be a new challenge for many businesses. It is generally much easier for managers to pick up on mental health struggles in person, so new frameworks and processes will need to be put in place to support a virtual workforce.
Managers must also be aware of potential signs of stress or anxiety and the implications of hybrid working and equipped to have the appropriate conversations. There are also the legal obligations to consider: how to ensure the safety and wellbeing of employees, particularly if they are working remotely more often. Focusing on building effective communication will be key to a smooth transition and making sure all team members feel supported.
And it's not just employees who need support; clients will also have new expectations and changing requirements, as they too will have dealt with the impact of the pandemic on their own business. Or they may be looking to you for "normal". You may find you need to put new measures in place to ensure a safe working environment. Without any clear government guidance, businesses will have to find their own ways of discovering what works best for them.
There may be a cost to ensure that employees have the right equipment to work effectively from home – and that it functions properly! IT can be transformational in how we perform our work but if it isn't working well, don't underestimate the impact it can have on your teams and also the impression it can make on new joiners.
What are the opportunities?
Introducing hybrid working has the potential to transformation your employees' working experience, providing them with a better or more manageable balance with life outside of work. Not only is commuting bad for the environment, but it also takes a large chunk out of the day. Hybrid working reduces commuting and gives your team more autonomy over their time and flexibility to balance their lives – there is also a cost saving, often a significant one!
Introducing hybrid working will also put your company in a better position for talent attraction. Employees' expectations have changed, and many now expect more flexibility. With hybrid working, you will now be able to attract a wider talent pool and open your company up to a more diverse workforce.
The last year has shown us all the potential of digital technology, and now is the time to embrace the opportunities it may bring for your company. Technology has the potential to improve innovation and creativity, benefiting both companies and clients – it is also another way of attracting great talent into the business,
How will this impact culture and leadership?
These new ways of working may demand a different style of leadership, that doesn't rely on presenteeism. Are your leaders equipped for the new world? Are you talking to them about what hybrid working means for them and how they will learn to navigate and lead their teams?
When it comes to office culture, don't assume it will bounce back to be the same as before. Not everyone will be in the office at the same time, so going forward, organisations will need to work harder at creating and maintaining a culture focused on values and inclusivity. Continuing to review engagement of your teams is critical, to highlight areas for improvement but also to celebrate what is working well.
Making inclusivity a priority in your company culture goes further than monthly catchups; it needs to be a series of continued conversations that keeps evolving, leadership from the top of the organisation, a continual learning cycle but importantly, it is a team effort and, now more than ever, everyone needs to take their part in creating a great place to work.

Sophie Austin