8 Mar 2022
International Women's Day - My story: Fiona Westwood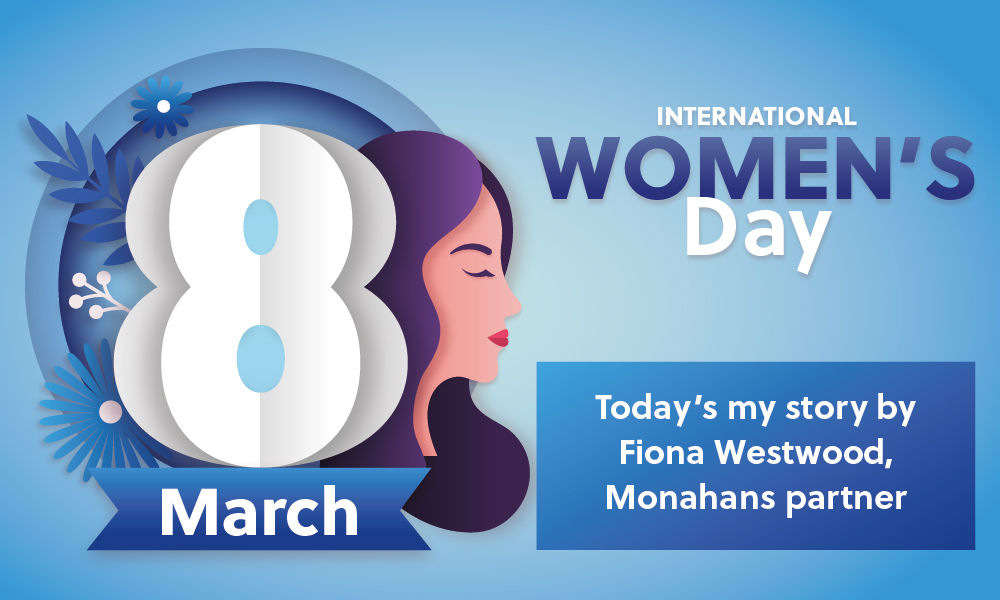 Tell us about your career to date and how you got to your current role in Monahans
At school I was interested in Accountancy and Engineering as a career. To keep my options open I followed the vocational path at university reading Chemical and Process Engineering. Although I enjoyed learning about the technical aspects, I realised it wasn't the career for me. I joined a 4-partner firm in Exeter to study for my ACA and then on qualifying I considered a career in industry as well as private practice. I chose PwC as it provided me with the opportunity to travel, use my fluent German and to work with clients using my engineering knowledge.
Over the years I progressed from audit senior in the small business team through to Director leading a portfolio of audit clients across 5 PwC offices as well as heading up the national charity technical team. Although I never got around to applying for an overseas secondment (I met my husband), I gained experience on a due diligence project in Germany and was supported in developing a portfolio of clients that were interesting to me even if they were an eclectic combination. Professional practices – because they are very much like our business and so I could share my own personal experience; Manufacturing businesses – it's great to be able to continue to use my engineering knowledge when discussing a manufacturing process with a business owner and it's interesting to see how technology continues to evolve; Charities – some really interesting people give their time for free to volunteer as Trustees, I had the opportunity to meet, advise and learn from some big hitters in UK coming back from my first maternity leave. I developed a passion for leading our own staff as well and jumped at the chance to take the operational lead in the 200 strong audit team at PwC in Bristol whilst also leading a portfolio of clients.
Working in the long-hours culture at PwC eventually took its toll on me personally and didn't always allow me the flexibility I wanted with my young children and so I joined Smith & Williamson as an audit partner in Bristol. There I learnt a lot about business development as I grew my own portfolio of clients. Very quickly I also became the staff partner. When Smith & Williamson was taken over by Tilney I knew that the culture of a venture capital backed business mainly focussed on wealth management was not where I wanted to stay longer term.
At that time, I was approached by Monahans with the opportunity to lead and develop our Taunton office. I jumped at the chance to work at a local firm with an excellent reputation which demonstrated the importance placed on our key asset – our staff- by having an HR specialist partner which is really unusual. My fellow partners have been supportive of me continuing to work part-time so that I can continue to spend time with my family and develop my voluntary roles being a Trustee of the charity Sustrans and chair of governors at a primary school in one of the poorest wards in Bristol.
Who has had the biggest impact on your career?
My first manager at the firm I qualified with had a big influence on me encouraging me to step out of my comfort zone to try new things and have confidence in my own abilities. She had a great work ethic and we're still in contact so many years on.
The other key person has been the regional chair at PwC in my first few years there. Until I met him, I'd always tried to model my behaviour using the style of my leaders (usually men), he was a very dominant alpha male and I soon realised that I couldn't follow his style. With his support I developed my own style of leadership of staff and client work. Above all I learnt how important it is to support and develop everyone you are working with.
What do you wish you'd known about yourself when you were starting your career?
I lacked confidence in my own abilities, clients look to us as experts which we are quite early on in our careers. Clients genuinely want to hear any recommendations that we have from our work and when you find them looking to you for your thoughts don't be afraid to tell what you think.
Be clear of your own personal values and don't be afraid to stick by them. When starting out in your career it's easy to be swept up by others or a culture that takes you where you are uncomfortable in going. We're all different and there's value in that for everyone. Clients aren't always right and often enjoy a robust discussion!
What advice would you give to someone who is in the early stages of their career?
Find something you enjoy – we spend a lot of time and energy at work so put that into something that fulfils you.
Take all the opportunities you can even if they take you out of your comfort zone you never know where they might lead you or what valuable experience you might gain – you could find something new that you enjoy and are good at.
Never be afraid to learn something new or ask for help. I've learnt so much over the years from colleagues and clients, from observing how those captains of industry handled themselves around a charity board table to more recently asking colleagues to help me brush up on my tax knowledge you'll be surprised what you learn and from whom!

Fiona Westwood